The cryptocurrency market has rebounded slightly after two days of losses. At $2.13 trillion, its total cap has risen by 1.3% in the past 24 hours, but fallen by 6% since Monday. It's a similar story with pretty much every major coin in the market, with BTC down by nearly 4% in seven days. That said, the original cryptocurrency has risen slightly in past hour, presaging the possibility of an end-of-week spurt. As such, here's our list of the 5 best cryptocurrency to buy for the weekend rally.
5 Best Cryptocurrency to Buy for the Weekend Rally
1. Lucky Block (LBLOCK)
At $0.00284750, LBLOCK is down by 5% in the past 24 hours, while 12% up in the past week. On the other hand, it has fallen by 44% in a month.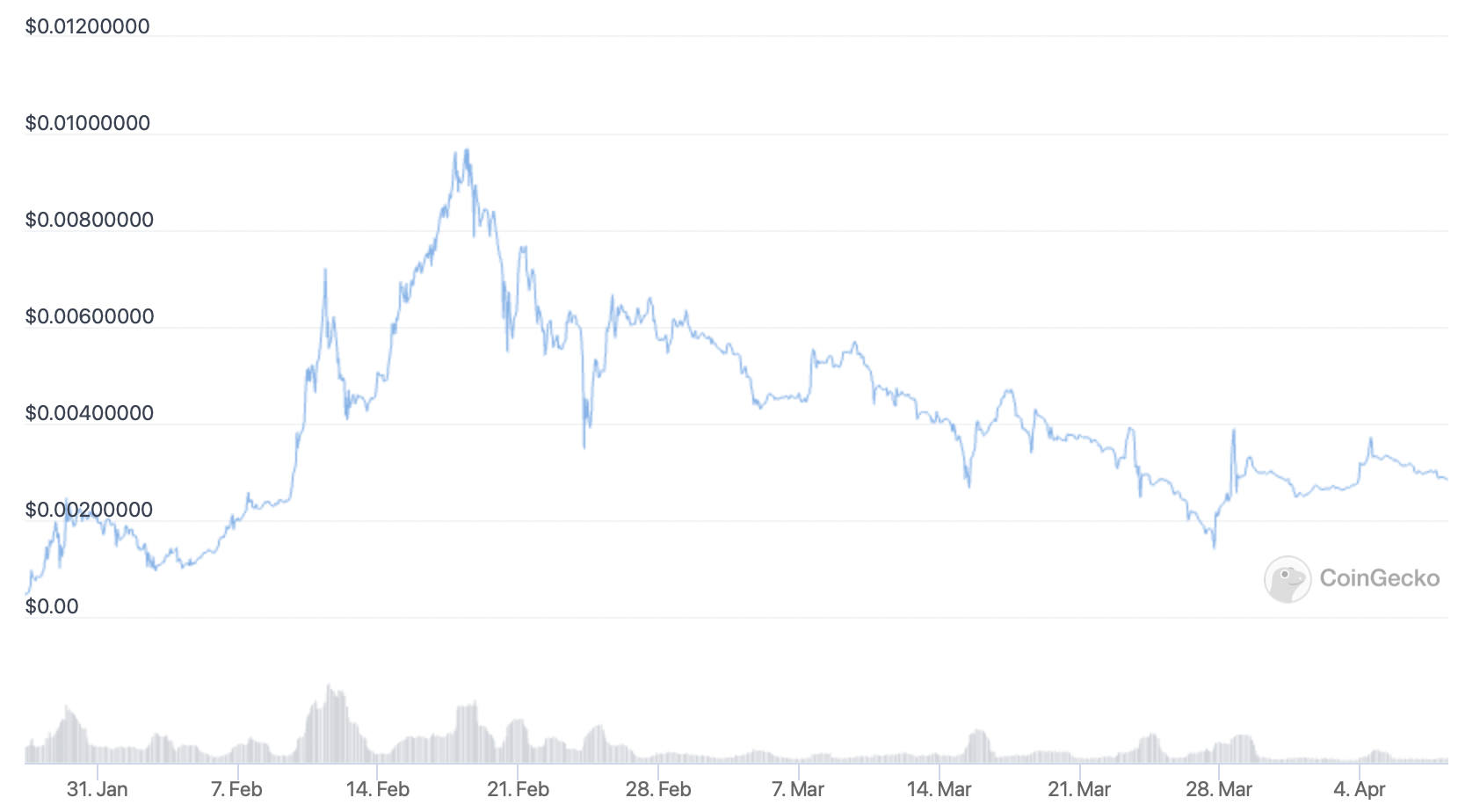 LBLOCK remains more than 500% up since the end of January, when it first became tradable. And even if it has fallen from an all-time high of $0.00974554, it continues to be a good bet for the future.
It's the native token of the Lucky Block lottery platform, which runs on Binance Smart Chain. Aiming to make lotteries more transparent and equitable, Lucky Block will hold its first draw later this month. All holders of the LBLOCK token will receive an equal share of 10% of each draw, while those who pay LBLOCK to enter will have the chance to win 70%.
Lucky Block is quickly making progress towards holding its first ever draw. Its Android app has launched in beta, while its iOS app is currently under review by the Apple App Store.
✅ Lucky Block update

? Lucky Block web app – working on security solutions and fiat ramps.
? Desktop apps – Testing continues, fixing bugs
? iOS app – Still in App Store Connect, we are waiting for feedback that should arrive shortly
? Android app update incoming pic.twitter.com/H8mfL5Mmbe

— Lucky Block ? (@luckyblockcoin) April 7, 2022
Other signs of growth include the fact that LBLOCK now has nearly 50,000 holders, despite not even having had its first draw yet. Lucky Block has also recently launched its own NFTs, which will form part of its smaller NFT-based lottery.
To all owners of the Platinum Roller$ Club #NFT ?

We can now run the NFT lottery before all the NFTs have been sold

?This means will be launching the $1 million NFT giveaway draw BEFORE all 10,000 limited edition pieces have been sold

Full statement https://t.co/Q6A0tLnalZ pic.twitter.com/Vn3yBi6Es1

— Lucky Block ? (@luckyblockcoin) April 5, 2022
For a cryptocurrency that's barely four months old, LBLOCK has done pretty well. It's currently listed on PancakeSwap and LBANK Exchange.
2. Bitcoin (BTC)
BTC is $43,850 today, rising by 0.9% in the past 24 hours and by 0.8%. It had fallen over the past couple of days, and is down by nearly 4% in a week. It is, however, up by 13% in a month.
BTC has had a tough couple of days, but its relative strength index (in purple above) is rising quickly. This suggests that a rally could be in the offing, a view supported by the fact that its 30-day moving average (in red) is nearing a bottom relative to its 200-day average (blue).
Regardless of timing, BTC is almost always the safest bet in the cryptocurrency market (comparatively speaking). It continues to attract further accumulation, something which reduces its supply and increases the chance of a big rally. For instance, MicroStrategy announced this week that it had acquired a further 4,167 BTC, bringing its total holdings to 129,218 BTC. On top of this, the amount of BTC that hasn't moved for at least 12 months has now equalled its all-time high of 64%.
The amount of #Bitcoin that has not moved for 12months or more has now equalled its all-time high of 64%

Last time this happened price was $10-11k before a huge rally pic.twitter.com/GX9LfNVlRl

— Alistair Milne (@alistairmilne) April 5, 2022
Such accumulation is laying the foundation for a potentially large rally, with institutions now holding around $66.7 billion in bitcoin. This is why BTC is one of our 5 best cryptocurrency to buy for the weekend rally.
3. NEAR Protocol (NEAR)
NEAR is up by 23% in the past 24 hours, reaching $18.97. This represents a 40% rise in the past week, as well as a 95% jump in the last 30 days.
NEAR's indicators show that it's setting new long-term levels. They also show that it's very likely to break its current all-time high of $20.44, which was set back in January.
NEAR is rallying for a variety of reasons right now. Most importantly, NEAR Protocol (a layer-one blockchain) has witnessed strong growth this month, with a number of new partnerships and app launches.
March has been an eventful month for the NEAR community.

Highlights included the launch of the @Unchainfund, the @SailGP partnership, the announcement of the #MetaBUILD 2 winners and more.

Read the March recap ?https://t.co/CCqlOmyeKx

— NEAR Protocol (@NEARProtocol) April 1, 2022
Such growth not only increases demand for NEAR, but also instils confidence in the NEAR Protocol's future. Hence, there's been a rush to acquire NEAR. Yet with Near Protocol's total value locked in still at a modest $366 million, there's plenty of room for ongoing growth. This is why we've included NEAR in our list of the 5 best cryptocurrency to buy for the weekend rally.
4. Cardano (ADA)
ADA is $1.10 today, representing a rise of 1.8% in the past 24 hours. Despite being 4% down in the last seven days, it remains 36% up in the last 30.
ADA's RSI shows the beginnings of a possible rally. A big rally for ADA is bound to happen sooner or later, given Cardano's fundamentals. It has been growing rapidly over the past few months, with its launch of smart contracts in September followed by Cardano's ecosystem expanding to include nearly 900 projects in development.
Nearly 900 projects are currently #BuildinOnCardano ?And this is just the beginning…

Keeping track of all the news is quite the job and we're still working on it. But we got you covered. In this thread, we look at the latest ecosystem updates ?

Let's go!?#Cardano $ADA pic.twitter.com/OSHbOIjFMq

— Input Output (@InputOutputHK) April 5, 2022
From standing at only $1 million at the start of January, Cardano's total value locked in has now risen to $233 million. This is a rise of over 23,300%, with the launch of its DEX SundaeSwap in January largely responsible for this growth.
While Cardano arguably remains an 'unfinished' system, there's no doubt it's growing quickly. Input Output Hong Kong continues to develop its capabilities, as well as announce new projects. It's therefore in a good position to enjoy a rally or two in the coming months.
5. Radix (XRD)
XRD is up by 9.5% in the past 24 hours, reaching $0.146330. While basically flat in the past week, XRD is up by 20% in the last 30 days.
What's interesting about XRD is that it has been more or less dormant since reaching an all-time high of $0.65126, in November. It could therefore be due a very big rally in the coming weeks, with its RSI now nearing 70.
XRD remains a very new coin, having become tradable back in late August. It's the native token of the Radix, a layer-one blockchain geared towards DeFi applications. It uses a proof-of-stake consensus mechanism, making it faster than its proof-of-work rivals. That means XRD can be used for staking, while it's also used within the Radix platform to pay for fees, which are then burned. With a capped supply of 24 billion XRD, this burning could make XRD inflationary in the future.
What makes Radix one to watch is that it promises faster development times than other blockchains. This was underlined by the release of Scrypto, a programming language Radix has created with the aim of enabling the speedy — yet safe — development of DeFi apps.
Just released Scrypto -an asset based language easier than Solidity, devs can start building dApps.
Developed their own scalable consensus mechanism -Cerberus.
Huge marketing push & strong community that shares the vision.#Radix Interview. @radixdlt

??https://t.co/dV1mo3dJhU pic.twitter.com/P62RD682ns

— Alexander Lorenzo (@alexoncrypto) April 4, 2022
Capital at risk
Read more: