The cryptocurrency market has had an interesting week. Dragged down by the ongoing Ukraine-Russia conflict, it resurged late on Wednesday after US President Joe Biden issued an economic order calling for the "responsible development of digital assets." This (mostly) bullish order sent its total cap to $1.92 trillion. However, it has come back down again, to around $1.83 trillion. But with the weekend fast approaching, and with Biden's order creating a strong foundation for future rallies (once the current political and economic turmoil has subsided), it could surge again. As such, we've put together a list of the 5 best cryptocurrency to buy for the weekend rally.
5 Best Cryptocurrency to Buy for the Weekend Rally
1. Lucky Block (LBLOCK)
LBLOCK is down by 12% in the past 24 hours, to $0.00456159. But while it's also down by 15% in the past week, it remains 92% up in the past month.
LBLOCK has also risen by more than 900% since it first became tradable at the end of January. As the native token of the Lucky Block lottery platform, it has attracted plenty of positive attention. It now counts around 43,800 holders, with the coin reaching a $1 billion market cap in only three weeks.
?LBLOCK token holder growth of 147% crushes the competition – Feb. 2022

? #Sandbox 16%
? #Matic 9%
? #CRO 7%
? #Decentraland 6%
? #FTX 5%
? #ShibaInu 3%
? #Cake 3%
? #BitcoinCash 2%
? #Uniswap 2%
? #Aave 1%
? #Avalanche 1%
? #Chainlink 1%
? #Dogecoin 1%
? #BTC 0% pic.twitter.com/cnsq6Hntsi

— Lucky Block ? (@luckyblockcoin) March 3, 2022
The platform's first draw is taking place on March 25th, with regular draws continuing afterwards. Users can use LBLOCK to enter each draw, with entrants having the chance to win 70% of each lottery's jackpot fund. Meanwhile, holders of LBLOCK will equally share 10% of each pot.
Lucky Block is also celebrating the minting of its first ever non-fungible tokens (NFTs) today. These NFTs are limited to 10,000, and they grant holders entry to a special NFT-based draw. The fund for each of these NFT draws will be around 2% of the main Lucky Block, with estimates suggesting that this will work out to around $10,000. On top of this, one lucky NFT holder will have the chance to win a Lamborghini in the first ever draw.
Gm!

Today is the day, don't forget our #NFT Minting party, today at 7pm GMT! ⏰

Don't miss your chance to win a #LAMBO and a lifetime entry to the #NFT #lottery! ?

Set your alarms and have your #WBNB ready! ? pic.twitter.com/P56FV4Mu7y

— Lucky Block ? (@luckyblockcoin) March 11, 2022
LBLOCK is tradable on PancakeSwap and LBANK Exchange. With more listings due soon, it should continue rising over the medium- and long-term.
2. Bitcoin (BTC)
BTC is basically flat in the past 24 hours, at $39,014. It's also down by 8% in the past week, and by 11% in the past month.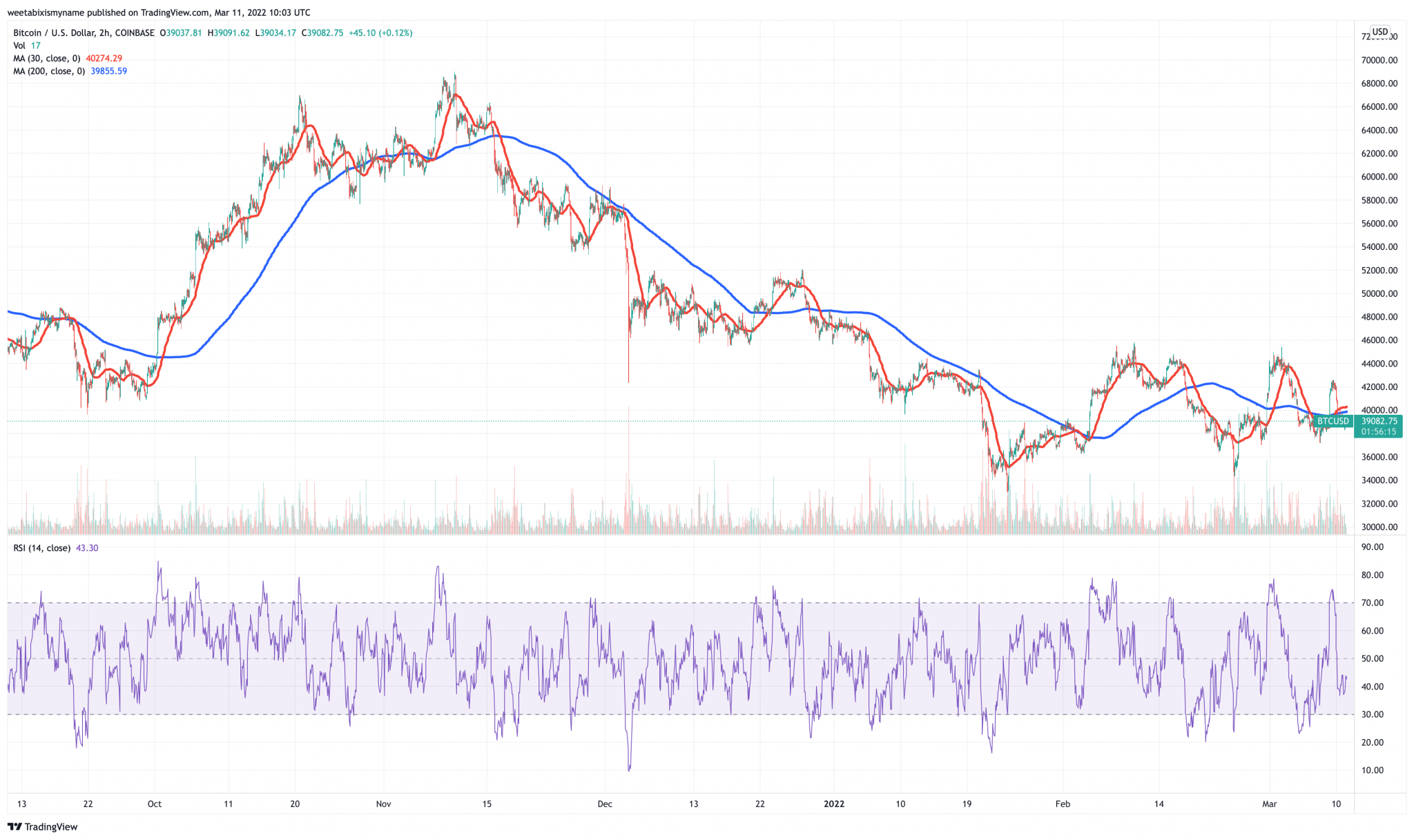 BTC's relative strength index (in purple above) has been all over the place in recent weeks. This reflects the turbulence of the wider macroeconomic and political environment. However, with its RSI dipping to 40 in the past few hours, it could be due for another surge upwards.
Bitcoin was the main beneficiary of Biden's economic order on Wednesday and early Thursday, rising as high as $42,500 a few hours after its appearance. It also benefitted from another random tweet from Tesla CEO Elon Musk, who posted an image with circled letters spelling out "Satoshi Nakamoto."
— Elon Musk (@elonmusk) March 9, 2022
The excitement over this characteristic tweet was short-lived, but BTC's fundamentals remain as strong as ever. It continues to attract more adoption and use, including the Swiss canton of Lugano, which made BTC (and also USDT) legal tender last week. There are also reports that more people in Ukraine and Russia are now buying bitcoin, largely as a result of sanctions and withdrawal restrictions.
On top of this, around $64 billion in BTC is held by companies and institutions right now. More banks are also turning to it, with State Street rolling out its own "mega" custody service. This is why BTC is one of our 5 best cryptocurrency to buy for the weekend rally.
3. Stacks (STX)
STX is up by an impressive 31% today, reaching $1.42. This represents a 17% rise in the past week, although the altcoin is also down by 17% in the last 30 days.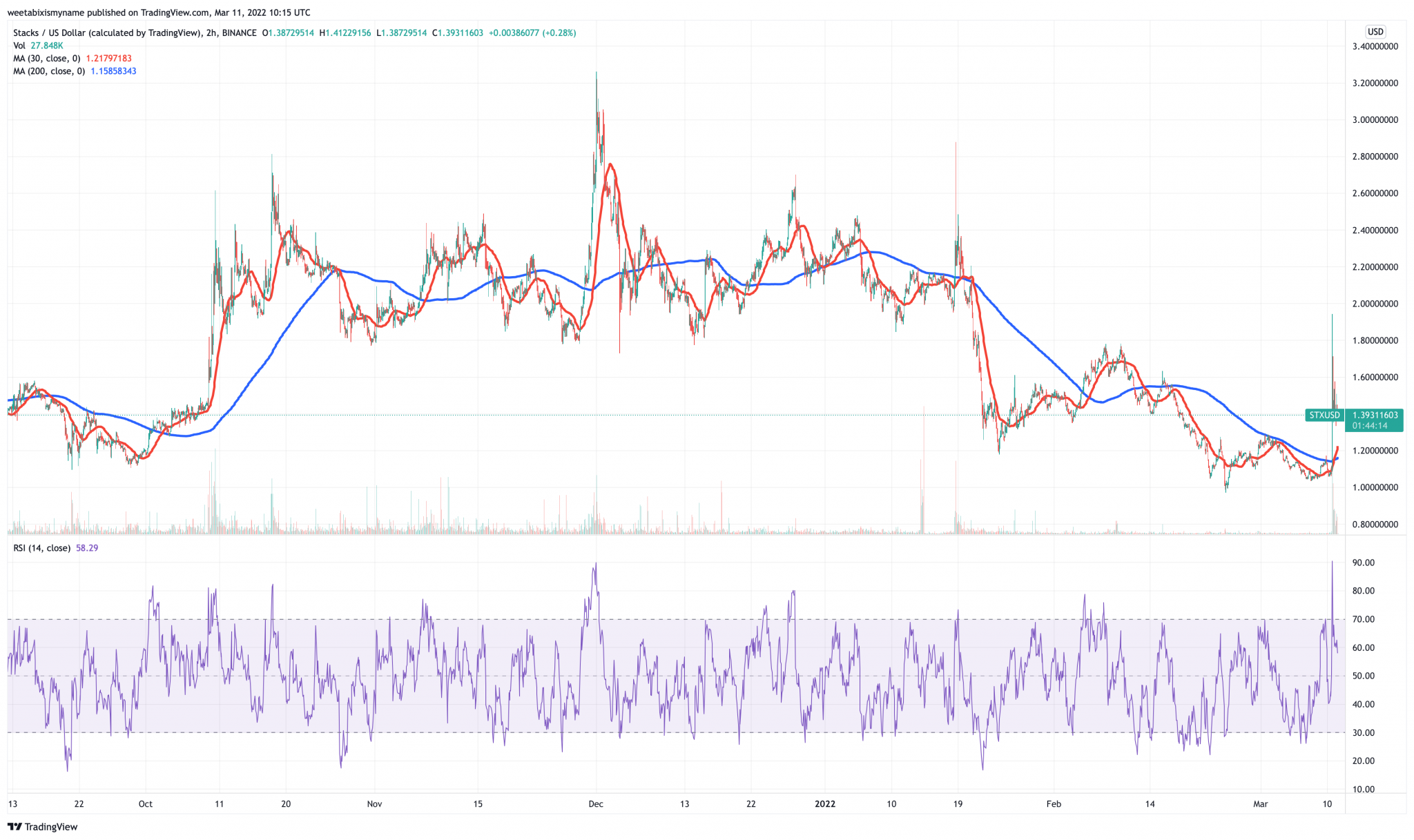 STX's indicators are going parabolic right now. Its RSI is up to 90, which suggests overbuying, but may also indicate the kind of momentum that needs more time to play itself out fully. Likewise, its 30-day moving average (in red), has just formed a golden cross with its 200-day average (in blue). This signals a possible breakout to a new level.
Stacks is basically a layer-two solution for Bitcoin, providing it with smart contracts and other functionality that operates over the top. Its native token is rallying at the moment largely because the OKCoin exchange announced it was partnering with Stacks in order to develop dapps for the Bitcoin blockchain. Together, they're committing $165m to this end, indicating the seriousness of their project.
We're partnering with the @StacksOrg & venture partners to form the next chapter of #Bitcoin. We call this effort the Bitcoin Odyssey.

Together we're pledging $165M towards projects developing decentralized apps on $BTC & @Stacks.

Stay tuned to learn more & how to get involved pic.twitter.com/qO51aWbjDR

— Okcoin (@Okcoin) March 10, 2022
4. Polkadot (DOT)
DOT is one of a small selection of major coins that's actually up today. At $17.78, it's up by 4.4% in the past 24 hours and by 10% in the past fortnight. It is, however, down by 18% in the last 30 days.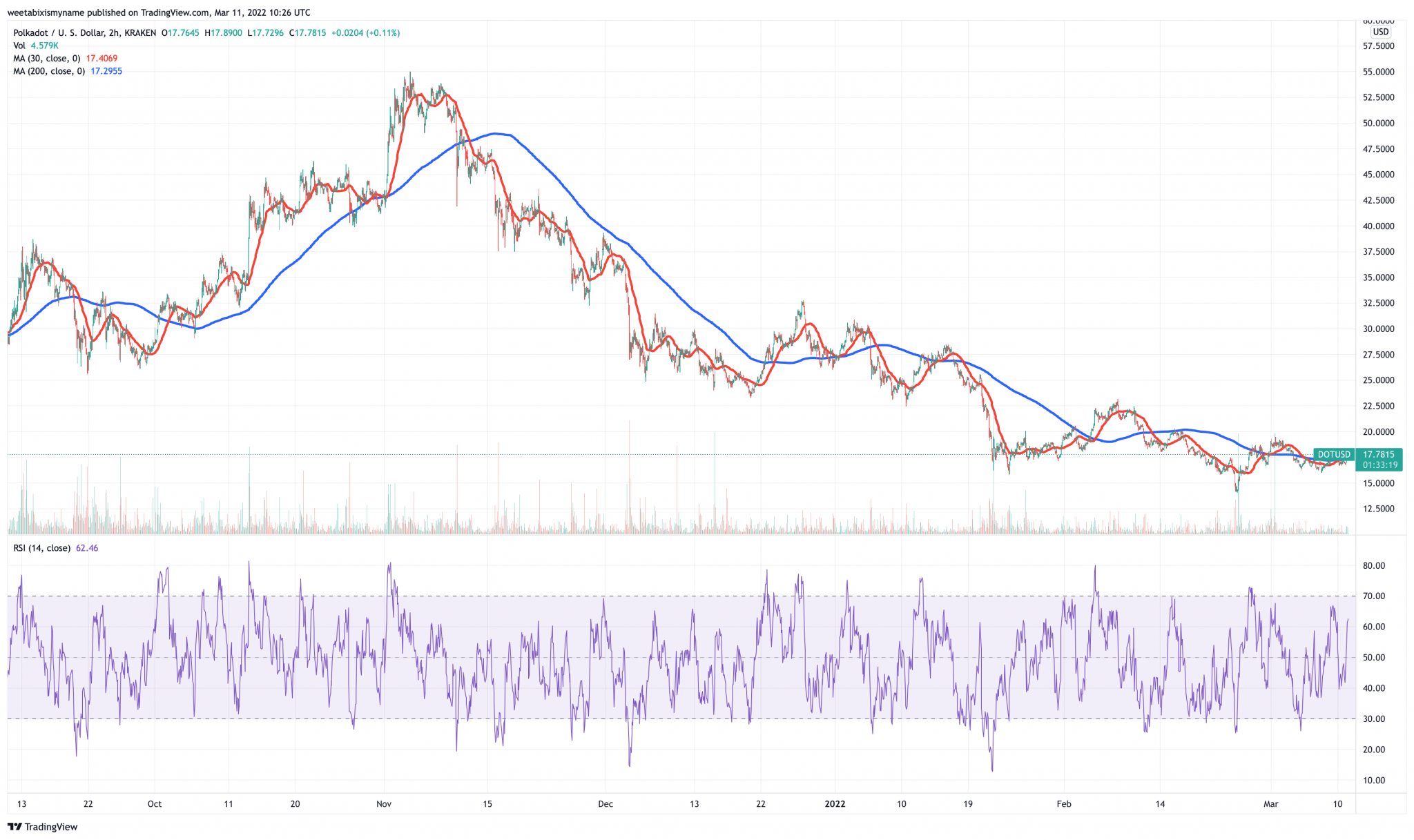 DOT's RSI shows a resurgence of momentum, with the coin having been down for several days now. In other words, it has been due a rebound.
In fact, Polkadot's fundamentals have pointed to a rally for DOT for some time. The layer-one blockchain began its long-awaited parachain auctions back in November, and has just celebrated the end of the 11th such auction. These will determine which platforms join the main Polkadot chain, helping the latter to build out its ecosystem.
Congratulations to @NodleNetwork on winning Polkadot's 11th auction!

Nodle will be onboarded at block #9,388,800 [roughly March 11,2022] at the beginning of lease 7 with the other winners from auctions 6-11. Over 4.7K network stakeholders locked up DOT in favor! pic.twitter.com/lZWrGiPYK2

— Polkadot (@Polkadot) March 10, 2022
In other words, once the auctions are finished and the winning platforms are onboarded, we expect Polkadot's traffic to grow considerably. This will increase the use of DOT (which is used for fees), and by extension should boost its price. This is why it's one of our 5 best cryptocurrency to buy for the weekend rally.
5. Avalanche (AVAX)
AVAX is up by 2.5% in the past 24 hours. At $75.29, it remains down by 4.5% in the past week and by 13% in the past month.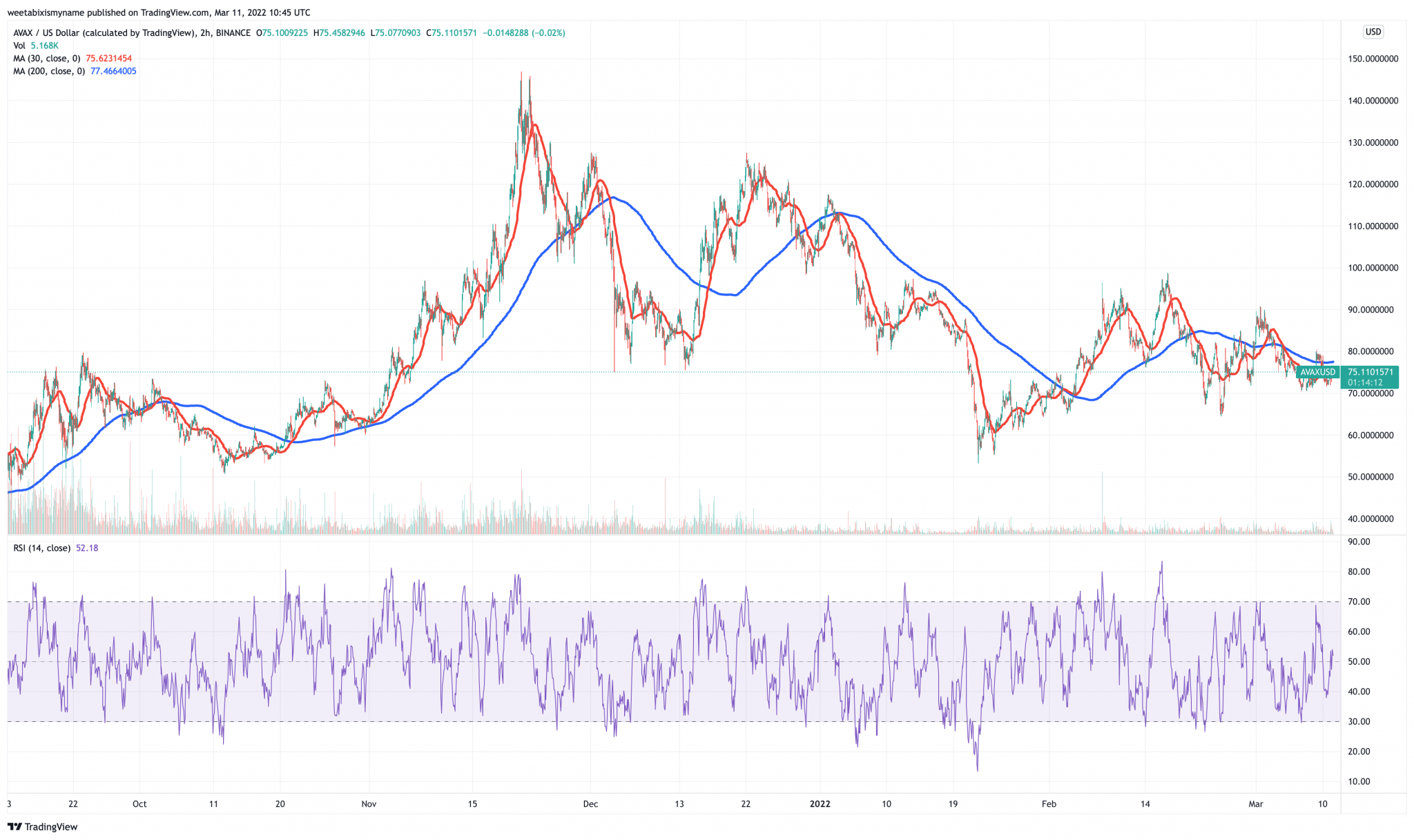 AVAX is another coin that has see-sawing indicators. However, it is one of the strongest cryptocurrencies in terms of its fundamentals, with its DeFi ecosystem accounting for $11 billion in total value locked in.
This figure has grown by around 400% since September, making Avalanche one of the fastest networks in the market. It has attracted growing use due to the fact that it already employs a proof-of-stake consensus mechanism. This makes it more scalable and faster than Ethereum, as well as more environmentally friendly.
#Avalanche does more using less, according to research by the Crypto Carbon Research Institute and data from @DefiLlama. Avalanche uses only .0028% of the energy consumed by the Ethereum network and secures $18,454 in TVL per kWh.

Lean more here: https://t.co/DiNcUw9pct pic.twitter.com/QlgTfjyu5C

— Avalanche ? (@avalancheavax) February 14, 2022
Avalanche attracted a $230 million investment in September from Polychain and Three Arrows Capital, which it's using to fund its continued development. Also, it very recently launched a $290m development fund, which will be focused on scaling the Avalanche network even further by using subnets.
Introducing Avalanche Multiverse, an up to $290M incentive program focused on accelerating the adoption and growth of Subnets. Multiverse is focused on supporting new ecosystems, including blockchain-enabled gaming, DeFi, NFTs and institutional use cases. https://t.co/R5euxSV5hx pic.twitter.com/PHpET78P6L

— Avalanche ? (@avalancheavax) March 8, 2022
Capital at risk
Read more: