The cryptocurrency market has jumped after a shaky couple of days. Affected by the ongoing fallout from the Ukraine-Russia conflict, its total cap had slid down to $1.75 trillion. However, this figure is now up to $1.93 trillion, representing a 10% increase in the last 48 hours. But given that we remain in an uncertain and indefinite environment, now may be the best time to look at coins with strong fundamentals. As such, we've put together a list of the 5 best layer 1 blockchain cryptocurrency to invest in now. This covers coins with very good long-term prospects.
5 Best Layer 1 Blockchain Cryptocurrency to Invest in Now
1. Bitcoin (BTC)
When in doubt, invest in bitcoin. BTC is currently up by 8% in the last 24 hours, reaching $41,100. This price represents a 5% dip in the past week, yet a 10% rise in the last 14 days.
BTC's recent price action underlines just what a turbulent period we've entered. Its 30-day moving average (in red above) has risen above and fallen below its 200-day average (in blue) on numerous occasions in the past few weeks. At the moment, the 30-day has just begun rising up again, and could overtake the 200-day soon. Similarly, BTC's relative strength index (in purple) has risen from 20 to around 80 in the past couple of days. This indicates some very strong momentum.
The reason for this recovery? Well, none other than Elon Musk has been up to his market-manipulating shenanigans yet again. A few hours ago the Tesla CEO tweeted an image which contains the names of four companies, and which circled letters from these firms so that it spelled out "Satoshi Nakamoto."
— Elon Musk (@elonmusk) March 9, 2022
Of course, this could mean almost anything. Yet the market reacted to this typically cryptic tweet by buying, with BTC moving from just under $40,000 to $42,000 in a few short hours.
Turning to the bigger picture, BTC is the layer 1 blockchain cryptocurrency most likely to benefit over the medium- and long-term. Even during what may be a bear market, it continues to find new converts.
This includes the Swiss canton of Lugano, which made BTC (and also USDT) legal tender last week. There are also reports that more people in Ukraine and Russia are now buying bitcoin, as sanctions hit the Russian ruble and Ukrainians try to avoid restrictions on money withdrawals.
And of course, bitcoin continues to see interest from institutions. Around $64 billion in BTC is held by companies and institutions right now, while State Street is planning to roll out its own "mega" custody service. This means that once the macroeconomy settles, BTC could be in for another big rally. This is why it's one of our 5 best layer 1 blockchain cryptocurrency to invest in right now.
2. Ethereum (ETH)
ETH is up to $2,759 today, representing a rise of 6.5% in the past 24 hours. It is, however, down by 7% in the past week, and down by 10% in the last 30 days.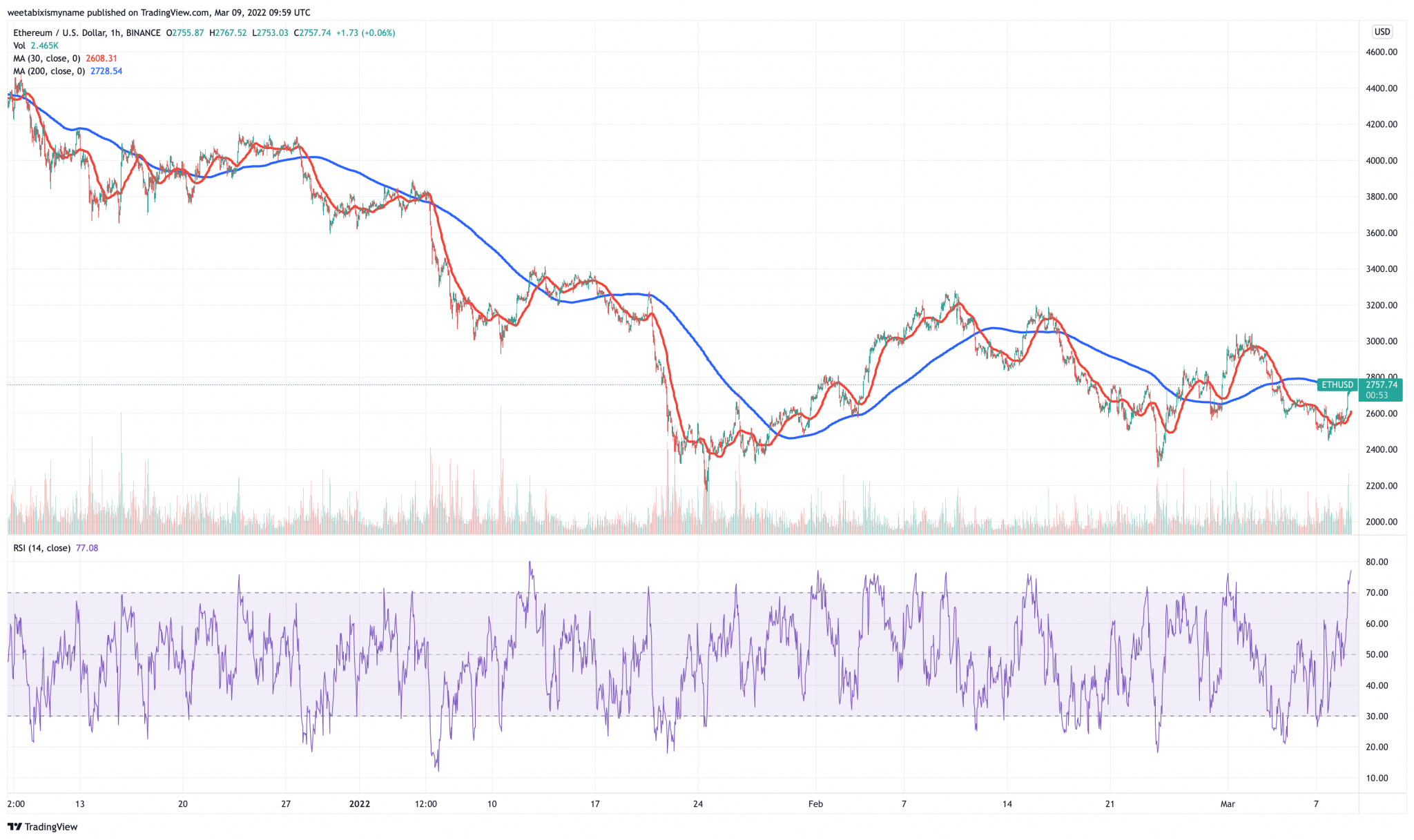 ETH's indicators are in line with BTC's, with the altcoin benefitting from bitcoin's Musk-inspired surge today. Its RSI is up to around 75, while its 30-day average is moving towards its 200-day.
Of course, given that today's rally is the result of an ambiguous tweet, it's hard to say whether it will last more than a few hours. Still, ethereum is the strongest layer-1 blockchain cryptocurrency in fundamental terms in the market, at least after bitcoin.
Ethereum boasts the biggest DeFi ecosystem in the cryptocurrency sector, with $111.64billion in total value locked in. This is likely to shoot up once it completes its transition to a proof-of-stake consensus mechanism, which is pencilled in for "Q2 2022."
This transition is bullish for ETH for two primary reasons. Firstly, it will make Ethereum more scalable, efficient and cost-effective, meaning its usage will only increase. Secondly, staking will result in an ETH supply squeeze. Over eight million ETH was already staked in the PoS smart contract as of December, and this number will only increase once PoS is up and running.
8.88 million $ETH now staked. ♨️

— zkNick.eth ?? (@0xEther) December 28, 2021
At the same time, nearly 2 million ETH has been burned since the EIP-1559 update of last summer. Combined with staking, such burning will make ETH increasingly scarce. This is why it's another of our 5 best layer 1 blockchain cryptocurrency to invest in right now.
3. Terra (LUNA)
LUNA is up by an enviable 18% in the past 24 hours, reaching $96.89. It's also 7.7% in the green over the past week, and up 73% up in the past month.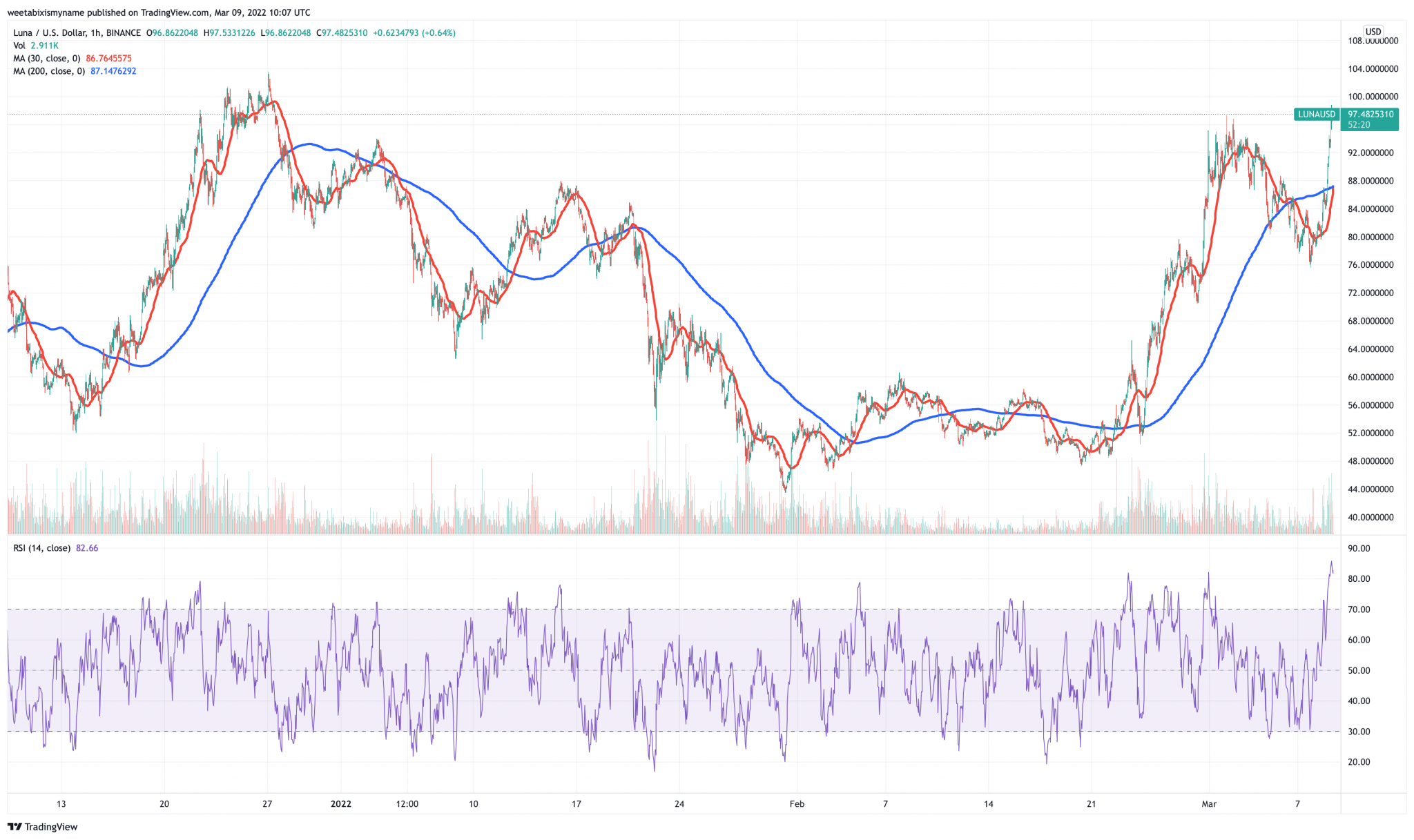 LUNA's indicators look very strong. Its RSI is above 80, while its 30-day average has just formed a golden cross with its 200-day. This signals a potential breakout rally.
In fact, LUNA is only 6% down from its all-time high of $103.34, set towards the end of December. Breaking this record high could spark a strong rally to new heights.
And there's plenty of reason to be confident in Luna. It has been rallying largely because Terra conducted a private sale of its UST stablecoin last month. Raising $1 billion, this sale will help create a reserve for Terra denominated in bitcoin, allowing it to support the value of UST. This has instilled market confidence in UST and Terra more generally.
1/ The long awaited [REDACTED] ?3 is here!

? The Luna Foundation Guard (LFG) has closed a $1 billion private token sale to establish a decentralized $UST Forex Reserve denominated in $BTC! ?

??

— Terra (UST) ? Powered by LUNA ? (@terra_money) February 22, 2022
On top of this, Terra is now the second-biggest DeFi ecosystems in the market, accounting for $25.5 billion in total value locked. This is an impressive figure, considering that it stood at $13.4 billion at the start of February. And with the Terra protocol burning LUNA every time new UST is minted, LUNA's price could jump much higher in the near future.
4. Cardano (ADA)
ADA's price is $0.847690, representing a 5% rise in the past 24 hours. That said, it's down by 12% in the past week and by 26% in the past month.
ADA's RSI and 30-day average hint at a potential rally, especially when they had been down for over a week. But while a truly strong rally may not arrive until macroeconomic conditions settle, Cardano is another fundamentally strong layer-1 blockchain cryptocurrency.
It's strong because it has been steadily building out its capabilities for some time now, with this development nearing the point at which it will bear fruit. Most notably, Cardano rolled out smart contracts in September, with its ecosystem developing platforms that make use of such contracts.
For instance, its first ever decentralised exchange (DEX), SundaeSwap, launched in January. Since then, Cardano's total value locked in — which was non-existent a few months ago — has reached $173 million.
Top 10 DEXs by TVL Growth in the Last 7 Days?

?https://t.co/InaJNxLR1s pic.twitter.com/Njfn1zO31u

— CryptoRank Platform (@CryptoRank_io) February 19, 2022
ADA is also in an improving position to capitalise on growing institutional interest in crypto. Last month, ETP provider Valour announced the launch of an ADA-based exchange-traded product on the Frankfurt Stock Exchange.
$DEFTF Trading of 2 new exchange traded products (ETPs),Valour Polkadot(DOT) EUR & Valour Cardano (ADA) EUR – begins 2/14/22…will enable retail & institutional investors to gain exposure to the DOT & ADA tokens simply & securely via their bank or broker
https://t.co/Ko2vro8BWK

— Michael Ventura (@mike1v) February 14, 2022
5. Avalanche (AVAX)
At $78.33, AVAX is up by 8% in the past 24 hours. But it's down by 10% in the last week, while up by 5% in the last 14 days.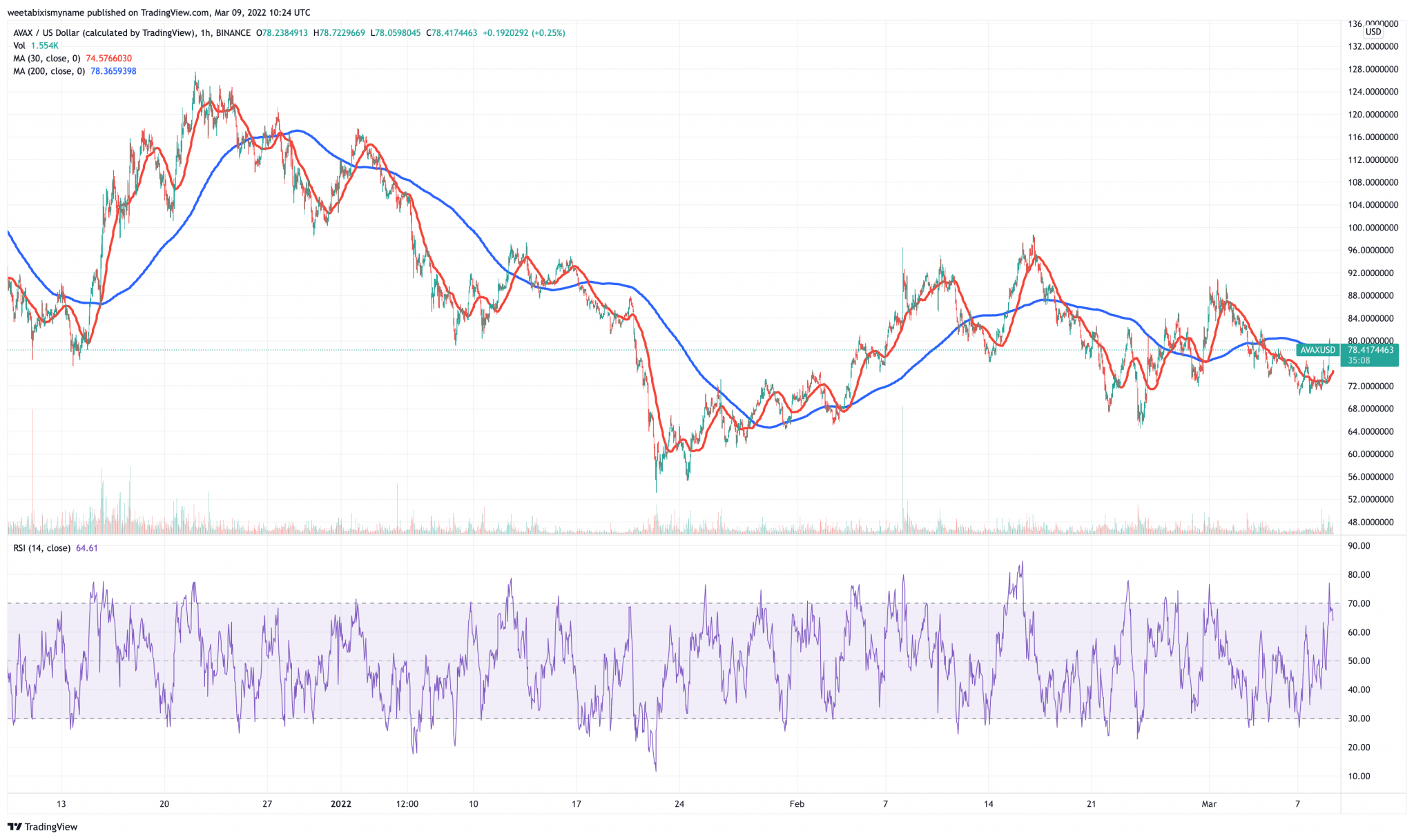 AVAX's indicators are also rising, suggesting growing momentum. A sustained increase would be very welcome, if only because AVAX remains 46% since reaching $144.96 in November.
But even with its decline since the market's peak, AVAX remains a very promising coin. It's the native token of Avalanche, which is the fourth-biggest blockchain in terms of total value locked in, at $11 billion. This figure has risen by just over 450% since the start of September.
Avalanche has grown vigorously because it's a more scalable alternative to Ethereum. And thanks to its use of a proof-of-stake consensus mechanism, it's also a greener alternative, given that Ethereum still hasn't moved away from proof-of-work.
#Avalanche does more using less, according to research by the Crypto Carbon Research Institute and data from @DefiLlama. Avalanche uses only .0028% of the energy consumed by the Ethereum network and secures $18,454 in TVL per kWh.

Lean more here: https://t.co/DiNcUw9pct pic.twitter.com/QlgTfjyu5C

— Avalanche ? (@avalancheavax) February 14, 2022
Importantly, Avalanche has the means and resources to continue growing. It attracted a $230 million investment in September from Polychain and Three Arrows Capital, which it's using to fund its continued development. This is why it's one of our 5 best layer 1 blockchain cryptocurrency to invest in.
Capital at risk
Read more: