The cryptocurrency market continues to inch upwards after rallying two days ago. At $2.03 trillion, its total cap is up by 1% in the past 24 hours, and by 13% since Monday. Most major coins have risen with the market, with bitcoin (BTC) enjoying a 15% rise in the last seven days. However, for anyone looking for lower priced coins, this article compiles 5 cheap cryptocurrency to buy for short-term profits. These are altcoins that have more potential upside than the average well-established crypto, although their volatility might make them riskier.
5 Cheap Cryptocurrency to Buy for Short-Term Profits
1. Lucky Block (LBLOCK)
LBLOCK is down by 5% in the past 24 hours, dropping to $0.00577801. It is, however, up by 2.7% in the past week and by nearly 200% in the past month.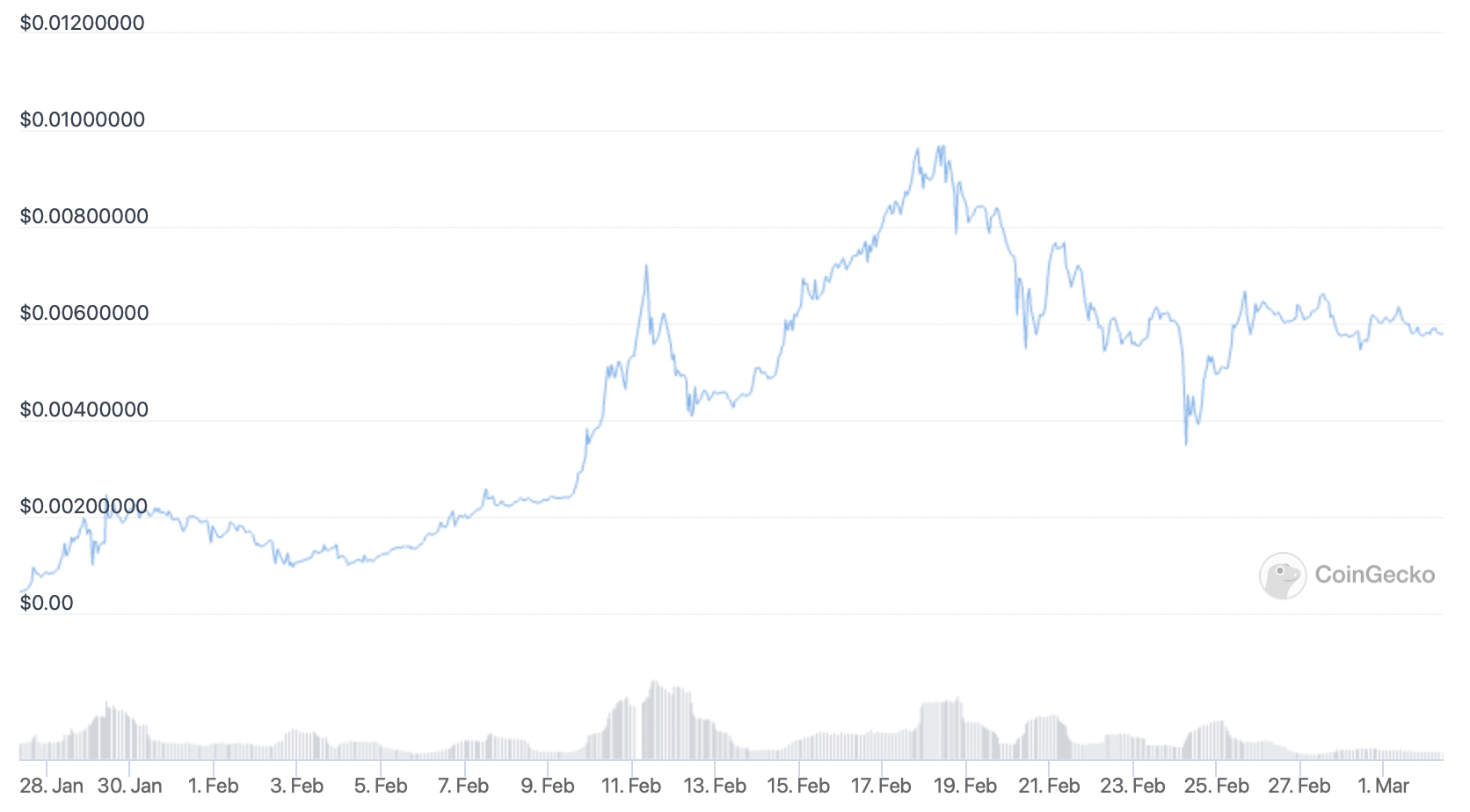 LBLOCK is currently up by over 1,000% since becoming tradable on PancakeSwap on January 27. It's the native token of the Lucky Block lottery platform, which runs on Binance Smart Chain.
Holding its first draw on March 25th, Lucky Block lets holders of LBLOCK buy tickets to its online lotteries. Tickets contribute towards a jackpot fund, with 70% of this fund going to winning ticket holders. At the same time, 10% of each fund is shared equally among all holders of LBLOCK, regardless of whether they entered.
Lucky Block aims to use blockchain technology to make lotteries more transparent and fairer. With all distributions of funds being visible on the Binance Smart Chain, any user can see where exactly jackpots go. This kind of updated take on the traditional lottery has helped Lucky Block generate considerable buzz, with its makers recently crowning it the "fastest-growing cryptocurrency in history."
$LBlock is the fastest-growing #cryptocurrency in history ?

That's right, we hit 1 billion market cap faster than #ADA, #BNB, #ETH, #SHIB and all the other #cryptocurrencies!

Thank you, #LuckyBlockArmy! ?#BSCGem #crypto #LuckyBlockHits1Billion #HODL #ToTheMoon pic.twitter.com/7bl7DFqwMk

— Lucky Block ? (@luckyblockcoin) February 21, 2022
LBLOCK is currently listed on PancakeSwap and LBANK Exchange, and is also launching its own range of non-fungible tokens, limited to 10,000.
Requirements for purchasing Lucky Block #NFTs ?

Each of the 10,000 NFTs mints for $1,500 and to be eligible to buy a potential owner must hold $1,000 in Lucky Block tokens ?

Get your $LBlock now at https://t.co/c3zY3rwnG7 to make sure you're eligible to buy our #NFT! ?

— Lucky Block ? (@luckyblockcoin) February 27, 2022
2. THORChain (RUNE)
RUNE is up by an impressive 26% in 24 hours, at $5.49. It's also up by 50% in a week and by 36% in a month.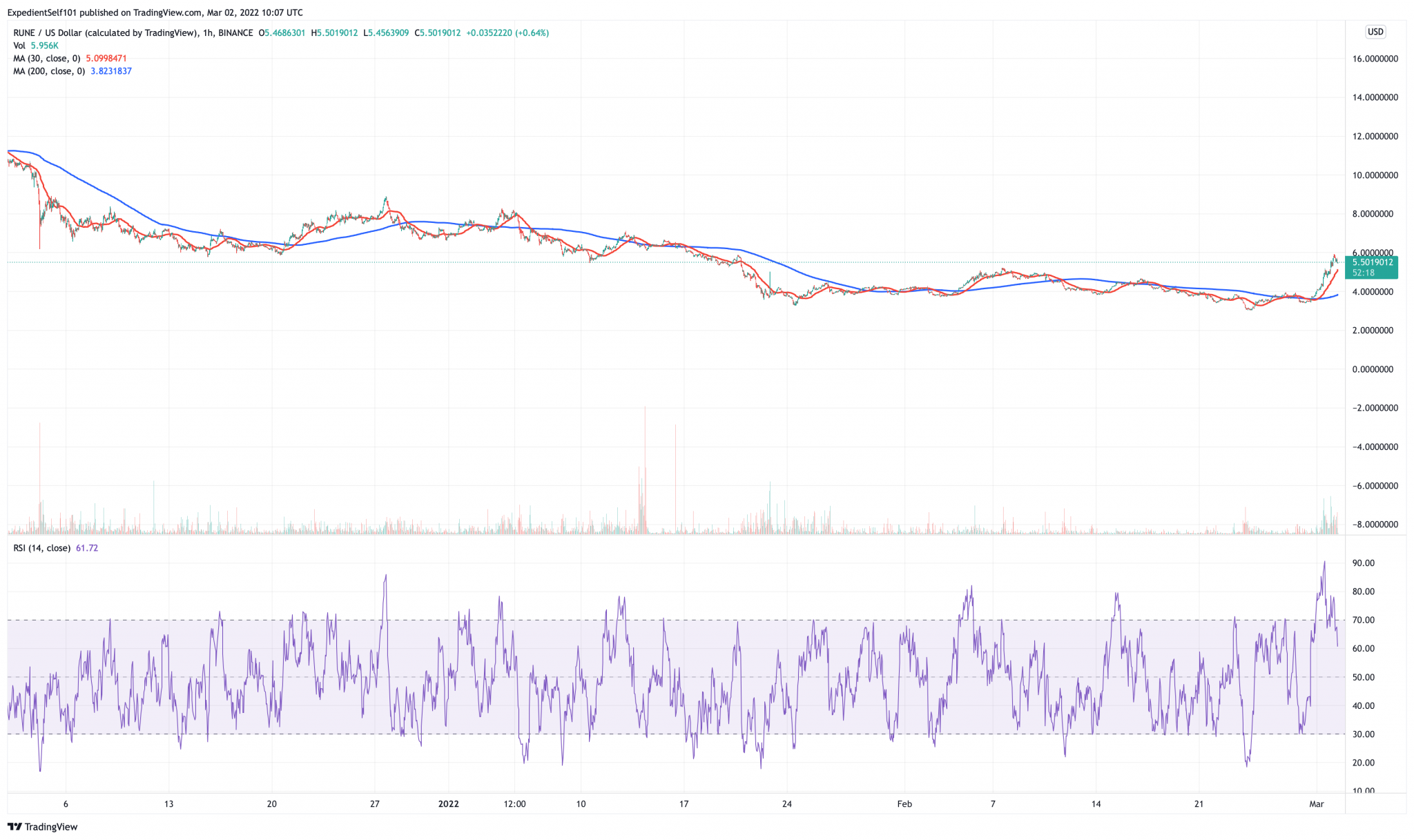 RUNE has shot up after several months of stagnation. Its relative strength index (in purple) reached as high as 90 yesterday, and remains above 60. Likewise, its 30-day moving average (in red) is rocketing above its 200-day average (in blue). This suggests it's moving strongly to a new level, and with the altcoin down by 73% compared to all-time high of $20.87 (set last May), it has plenty of room to continue rallying.
THORChain is a cross-blockchain decentralised exchange (DEX). Built on Cosmos, it's designed to facilitate swaps between users on different chains, something which could have massive potential going forwards.
Its current rally is largely the result of an imminent integration with Terra, which is now the second-biggest layer-one blockchain (after Ethereum) in terms of TVL. This will greatly expand its ecosystem, and with its full mainnet due for launch in the coming weeks, RUNE is likely to rally further. This is why it's one of our 5 cheap cryptocurrency to buy for short-term profits.
With Mainnet on the horizon, there will be push towards greater integration. https://t.co/gWIXVHC5FK will allow this. Watch this space. Watch the integration grow!$RUNE #LUNAISCOMING

— THORChain #LUNAISCOMING (@THORChain) February 28, 2022
3. Fantom (FTM)
At $2.04, FTM is up by 12% today. It's also up by 27% in the last seven days, but basically flat (+0.5%) in the last 30.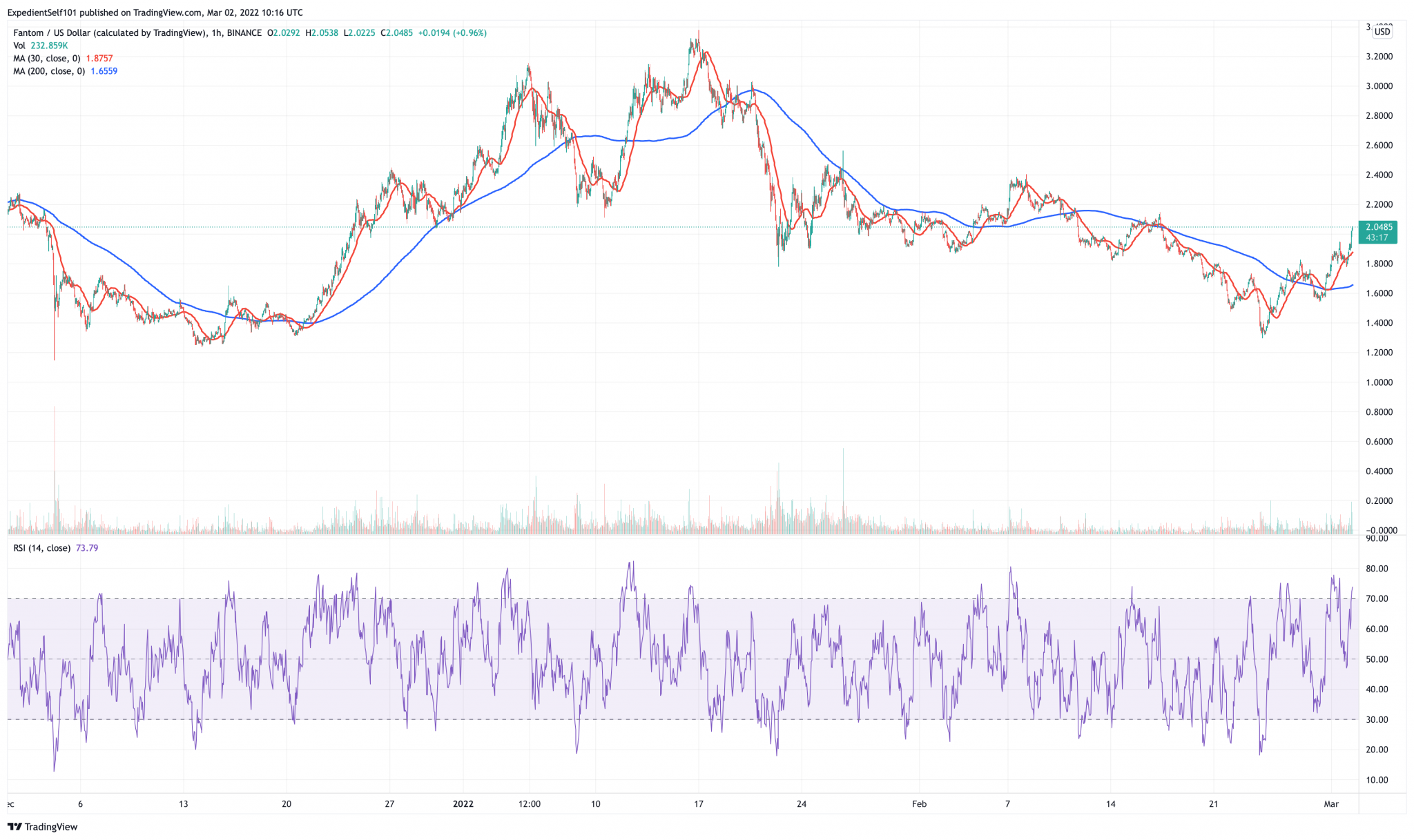 FTM's indicators show that it has begun a very strong rally. Its RSI is up to 70, showing good momentum. And its 30-day average is racing above its 200-day, suggesting that it's moving to new longer term levels.
A smart contract platform, Fantom is quickly becoming a rival to Ethereum and other similar layer-one blockchains. It has reached $12.15 billion in total value locked in, up from only $1.5 billion at the start of October.
Fantom has also recently reached the milestone of surpassing Ethereum in daily transactions for the fourth consecutive day. This is largely because it already offers greater scalability than Ethereum, which is still waiting to transition to a proof-of-stake consensus mechanism.
$FTM has surpassed $ETH in daily transactions for the 4th Consecutive day now ?#Fantom will be a top 10 coin this year RT if you agree

— FantomQueen ? (@michelle_crypto) February 27, 2022
4. Dogecoin (DOGE)
DOGE is $0.133700 today, representing a rise of 2% in the past 24 hours. It's also up by 1.5% in the past week but down by 12% in the last 14 days.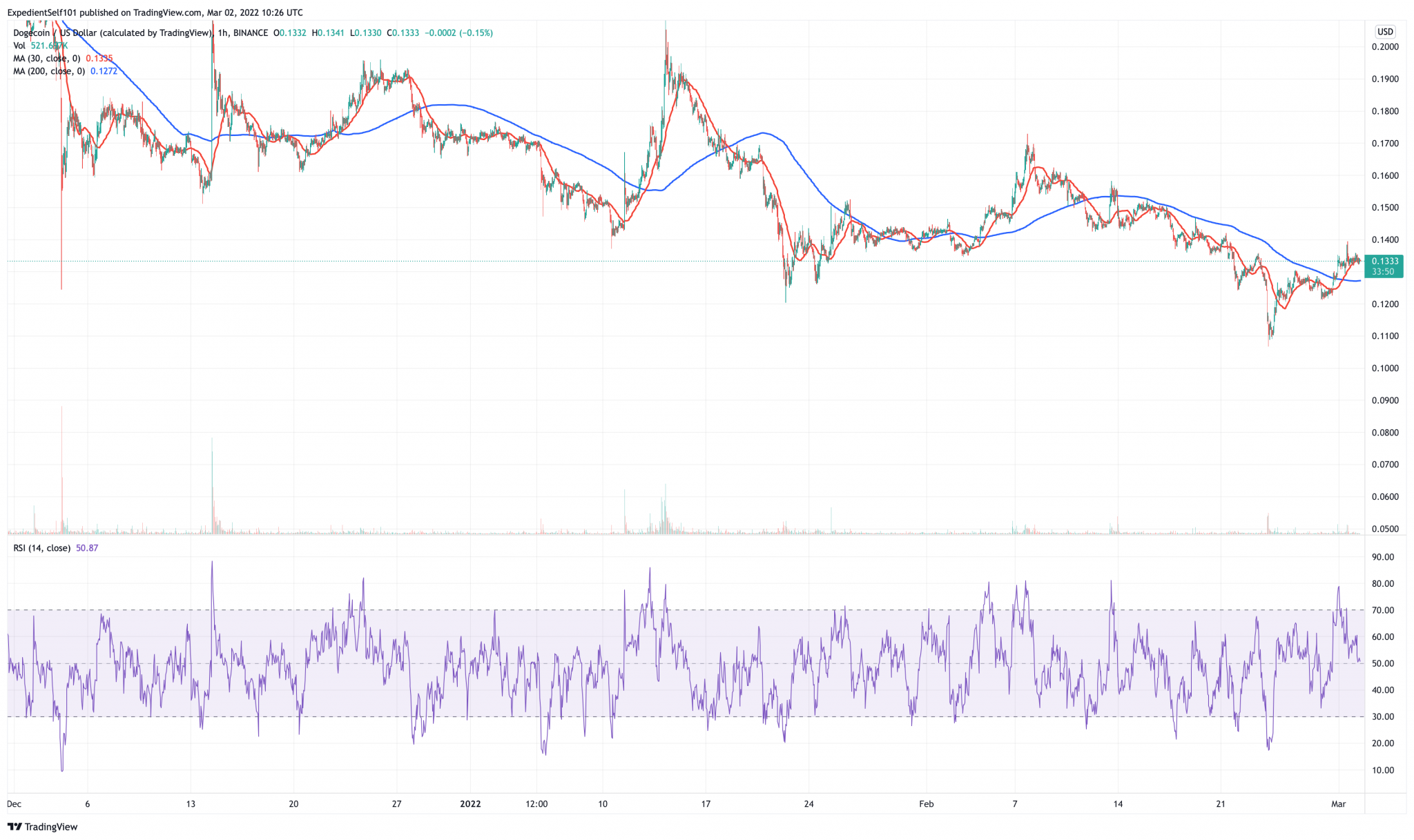 DOGE's indicators are more or less in line with the rest of the market's. However, the altcoin has yet to rally as strongly as other well-established coins. This could therefore be a good time to buy it, assuming that it will enjoy its own rally sooner or later.
Given that DOGE does have a strong community of followers, such a rally may only be a matter of time. Its Reddit page commands 2.3 million subscribers, while its Twitter has 3.1 million followers. This speaks to the potential DOGE has to rally at short notice.
So to does the fact that one of DOGE's biggest supporters is Elon Musk and Tesla. In January, Tesla famously began accepting payment in DOGE for some of its merchandise, while Musk used an interview with Time to extol the virtues of Dogecoin in comparison with Bitcoin. There's no reason this kind of promotional activity won't emerge again in the near future, giving DOGE good potential for short-term rallies.
You can now purchase select items on Tesla Shop in Dogecoin…exclusively in Dogecoin!https://t.co/I4jSgwJZ5O

— Taylor Robinette (@twrobinette) January 14, 2022
And with DOGE also witnessing some institutional investment last year, there's every chance it could rally strongly once the market picks up again. That's why it's one of our 5 cheap cryptocurrency to buy for short-term profits.
5. Shiba Inu (SHIB)
SHIB is up by 3.8%, rising to $0.00002679. It's also up by 7.4% in the past week and by 26% in the last 30 days.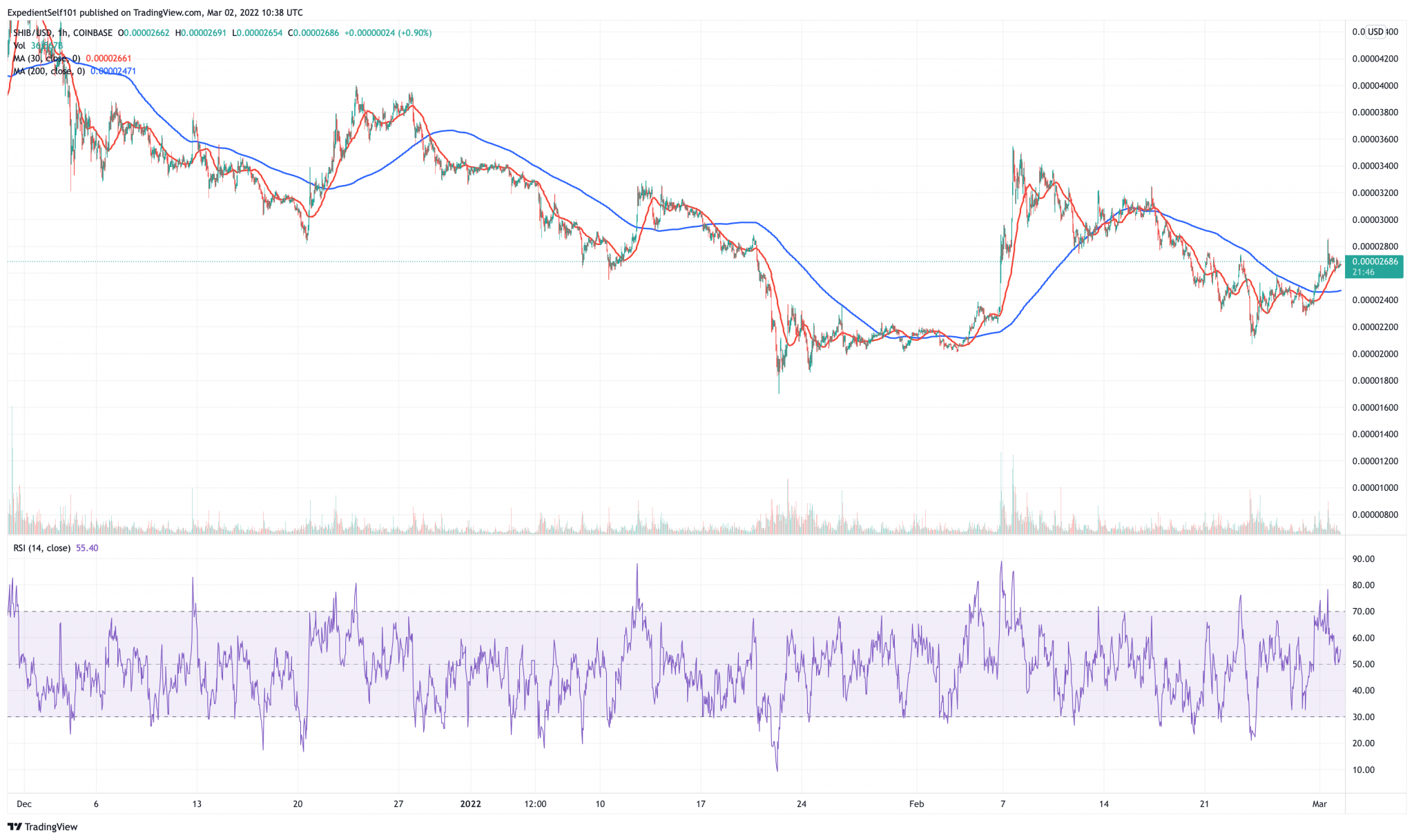 SHIB's indicators reveal that it too has begun rallying in the past couple days. With its RSI at around 50, it continues to have decent momentum without being overbought.
As with DOGE, SHIB has an army of loyal followers and boosters. Its Reddit page now counts around 467,000 subscribers, while its Twitter account also has 2.9 million followers.
It also continues to grow, with Shiba Inu announcing its own metaverse last month. Dubbed the Shibverse, details remain sketchy at the moment, but it will involve virtual land and real estate. So expect demand for SHIB to increase following its launch.
New Blog: A METAVERSE Story that begins… with an update!

? Introducing Lands, a queue system, and more!
? $LEASH holders will be the first to gain access to Shiba Inu Metaverse Lands.

Read more… https://t.co/S758ClAbRC

— Shib (@Shibtoken) February 8, 2022
At the same time, Shiba Inu launched its own DoggyDAO last month. This is a decentralised autonomous organisation that will be responsible for deciding which projects to distribute funds to on ShibaSwap, Shiba Inu's native DEX. Its launch indicates that, despite having a reputation as a meme token, Shiba continues to grow.
We already see those votes coming in!

DOGGY DAO is live on #ShibaSwap.

Woof! pic.twitter.com/7JHvyjynvO

— Shib (@Shibtoken) February 18, 2022
Capital at risk
Read more: